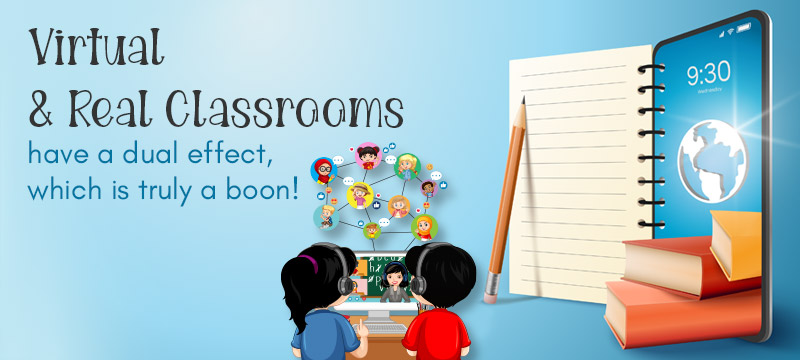 With its onset in 2020, the pandemic has changed the entire global learning landscape. Learning has transitioned from the real to the virtual to cope with the system's pressures and continuity demands. Worldwide, 1.6 billion children in 186 countries were impacted by the closure of schools. Online or Distance Learning has become the necessity of the day, leaving academia to understand which one is more effective – the Virtual or the Real. (3)
Virtual & Real Classroom: Head-to-Head
In ancient times, the Real or traditional classrooms were conducted as Gurukuls under the tree's shade. The Brahmacharya Ashrama or student phase was the first phase of life. The pupil learnt to prepare for success in the later stages of life. Besides teaching the basic skills of reading and writing they were also versed about the spiritual and religious concepts for a holistic learning experience. It was the first real classroom environment.
In a real classroom, all the senses of a pupil can be engaged. In a real tangible world, the teacher engages the pupils, encourages their participation, addresses the students' emotions, thoughts, and queries, and builds social and emotional bonds. Communication between the teachers and students is very effective in real classrooms, where feedback can be immediate and face to face.
A simple hug or holding hands can raise the spirits of a student. In the virtual classroom, the emoticons take over, and the pupil's reactions become mechanical. Innovations in technology mean more unique ways to emote, sans the spontaneity of the human touch. (1)(2)
Real classrooms are more formal in setting and inculcate a sense of discipline. The students are required to attend school during assigned hours. They learn interpersonal relations in a classroom setting in real-time, both with the adults at school and the peer group. Students can access study material and content 24/7 on virtual platforms and communicate electronically with the teachers in online setups. A Self Learning mode is also encouraged at times.
Pros & Cons
Looking at the paradigms of both the real and virtual classrooms, both have advantages and disadvantages. Virtual classrooms benefit from saving commuting time, agility, and flexibility in learning and access to a more significant number and variety of learning content and classes. However, technology and screen time exposure may pose considerable health and cyber security concerns for the child. Professional development of teachers to engage students on a virtual platform is a significant need in developing nations. While urban schools have progressed to a smooth transition towards online learning, schools in rural areas yet experience the digital divide.
Way Forward
Hybrid Learning or Blended Learning is a cost-effective solution offering consistency and easy access to content, engages the learners and supports human interaction within the parameters of the Covid protocols. The new norms in the learning milieu are here to stay after the pandemic reopening. Proactive measures of social distancing, staggered attendance, infrastructural changes as handwash stations, mandates of sanitisers and masks, low crowd activities and others are being advocated; so as to enable the student to come back to school.
Ruby Park Public School: Facilitating World-class Education
Ruby Park Public School aims at educating and nurturing students to become a strong community of responsible citizens and leaders of tomorrow. With a holistic curriculum, the students are taught life skills via an education pattern, supported by a counselling and disciplinary system that cares for the student's mental health.
Being affiliated with the CBSE board, it visions to impart 21st-century skills to its students and maintain a delicate balance between traditional values and modern ethos. The stimulating and peaceful learning environment has stimulated the students to successfully achieve the highest standards of discipline and excellence in their educational endeavours.
For more information, visit www.rubypark.com.
Disclaimer:
RPPS blog posts have been written with the information gathered from approved articles and websites online. Our research and technical team strive to provide relevant information through such articles.