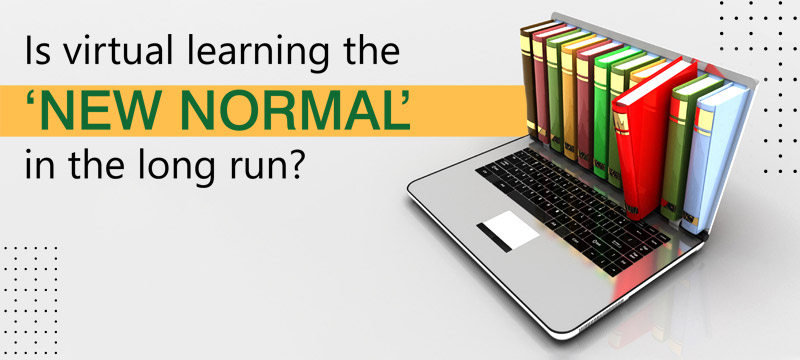 Online learning has become a major part of our lives today. The Covid-19 pandemic has led to teaching and learning being temporarily converted to a virtual process. The interactions between the teachers and students are currently limited to virtual classes and distant learning. The lessons are conducted online as part of the 'new-normal'.
Online learning has definitely come as a blessing to the education fraternity –otherwise in this situation of staying locked up in the house, one would have been compelled to abandon the teaching learning process completely. However, since online classes can be conducted from our homes and do not require the concerned people to come face-to-face, it has helped in continuing with education even in these times of social distancing. It is convenient, fast-paced, saves money and still facilitates the process of learning effectively.
Some highlights of online learning are encapsulated below:
Efficiency – Online learning offers teachers an efficient way to deliver lessons to the students. They can plan the lessons in advance and conduct the class accordingly.
Accessibility of time and place – Another advantage of online education is that it allows students to attend classes from any location of their choice. Irrespective of where the student or teacher is placed at that point in time, they can conduct or attend classes easily.
Affordability – It is a financially viable method as it does not involve movement, paid space or other costs associated with running an organization.
Improved student attendance – Students, especially younger ones, are often reluctant to travel, and fall sick frequently. This hampers their attendance in school. Since online learning can be accessed from the comfort of our homes, it improves the attendance of such learners.
Suits a variety of learning styles – Usually, offline teaching-learning involves a stereotypical pattern. Online learning, on the other hand promotes a lot of opportunities like screen-sharing, visual aids, verbal discussions, effective class participation and so on.
Despite the above-mentioned advantages, online learning is plagued by a number of cons as well.
Inability to focus on screens – For many students, one of the biggest challenges of online learning is the struggle with focusing on the screen for long periods of time. It makes them tired and often affects the eyesight.
Technology issues – Another key challenge of online classes is internet connectivity. Even though they have the liberty to attend classes from anywhere, internet connection is neither strong nor stable in all areas. Without proper connectivity, the students are completely helpless. The same applies for teachers as well.
Sense of isolation – Teaching-learning is majorly dependent on physical interaction and the personalised supervision. Hence, it is right to say that this process has been affected adversely. Online learning isolates the teachers from the students and vice-versa. It reduces connection and accessibility.
Technologically savvy – It is difficult for a number of teachers and students, especially the ones who are not very technologically sound, to conduct and participate in these online classes. They find it difficult to handle computers as well as the various user-interfaces of different applications.
Management of screen time – Initiating an online class often takes a lot of time owing to network issues, audio-visual lags and so on. This consumes a lot of precious class time and the teacher might find it difficult to complete the specific material planned for the particular session.
Malpractice by students – Unfortunately, many students often resort to mischief in this medium as they know that it is difficult to track or identify them. They do this either owing to adolescent behavioural changes or simply for fun. Teachers fall prey to such mischief, and may feel humiliated at times.
Difficulty in evaluation – Online studies have also affected the process of assessment and evaluation as examinations cannot be conducted efficiently. Evaluation also becomes challenging.
RPPS: The trusted name for quality education
Rated among one of the top schools in the city, Ruby Park Public School (RPPS) has also successfully adapted to the online medium for imparting education in recent times. The well-trained teachers of this CBSE-affiliated institution have taken on an extremely responsive initiative of going the virtual way to conduct their classes efficiently and complete the syllabus without compromising on the quality of the lessons.
Even in these difficult times, excellence in education and the holistic growth of all the students is what the school stands for. It is continuing to provide an invigorating and intellectually stirring environment as well as ensure personalized care for the all-round development of all its students.
For more information, visit www.rubypark.com