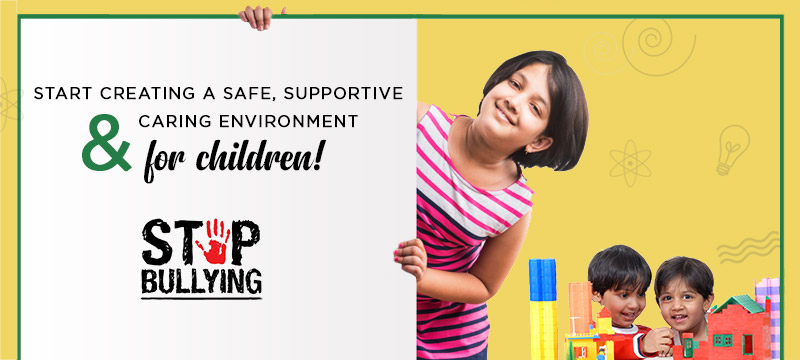 Bullying is a hostile behaviour mainly observed among children who want to exert power over others. When repeated constantly, it can have adverse effects on the child's mental health. Bullying affects everyone involved in the act – the bully, the bullied, and the witnesses.
Children who bully others have typical behavioural patterns such as getting into fights, alcohol abuse, school dropouts, and criminal convictions. These behavioural patterns may result in abusive behaviour towards romantic partners, spouses, or children as adults.
Children who get bullied have adverse social, academic, physical, mental and health issues. Psychosomatic disorders are observed as changes in sleep patterns, depression and anxiety, loss of interest in activities, associated health complaints, and low academic scores.
Children who are witnesses of bullying have increased mental health problems. As a result, they may get into depression and anxiety, start abusing tobacco, alcohol or other drugs and exhibit high absenteeism in school.
Types of Bullying
Bullying can take various forms as:
Physical abuse such as hitting, kicking, slapping and tripping
Verbal abuse as teasing, name-calling and arguing
Relational/social abuse as spreading rumours and leaving out of the group
Damage to property of the victim or environment to express aggression and anger
Cyberbullying through technology, which has been on the rise
Role of a teacher in the prevention of bullying in schools
1. Teach kindness and empathy –
When students approach ideas and problems from multiple perspectives, they're less likely to bully others. Students should be encouraged to promote social-emotional development from the earliest ages. A teacher facilitates ways to help children understand themselves and others which requires empathy and kindness.
Empathy is recognized as viewing someone else's perspective and must be embedded into the school curriculum. Children must be encouraged to talk about their differences to reach a better understanding. It can be developed through conflict resolution and deliberate interaction.
2. Create the opportunities to connect –
Inculcating a sense of community in your classroom may reduce bullying incidents and heal the students affected. Research suggests that when students feel connected to peers, they're more likely to cope with being bullied. Studies also demonstrate that teaching students to speak up when they witness bullying behaviour and stand against it may undercut future bullying incidents by more than 50 per cent.
The classroom must be safe for students to express themselves and feel heard. Developing the students' abilities to advocate for themselves and others is also imperative. Outside of the classroom, facilitate opportunities for positive reinforcement by helping students get involved in afterschool activities that align with their hobbies and interests.
3. Identify 'gateway behaviours' –
Researchers have found that small behaviours can often indicate the onset of bullying.  "Gateway behaviours" indicators may be challenging to detect. Recognizing them early on may aid in the prevention of bullying. As a teacher, here are some of the crucial behaviours you should take notice of:
Eye rolling
Prolonged staring
Back turning
Laughing cruelly/encouraging others to laugh
Name-calling
Ignoring or excluding
Causing physical harm
Spying
Stalking
4. Use the arts to create context –
Art imparts the ability to view diverse perspectives among young people. Through drama, literature and the visual arts, students can understand the adverse impact of bullying.
Measures to prevent bullying
By adopting the following measures, we can prevent bullying:
Developing a positive school environment
It is imperative to provide a conducive environment for a child's development. A conducive climate helps foster healthy development.  In contrast, an adverse school climate is associated with higher student bullying, aggression and victimization.
Advancing social and emotional learning
Social and emotional learning (SEL) is synonymous with developing self-awareness, responsible decision-making, and relationship management skills. The family must contribute to teaching these lessons. Bullying is sometimes are a product of abusive parenting practices.
Moving Forward
A substantial shift in the mindsets about children's importance and feelings presents the way forward. Children can thrive when we nurture their humanity and offer them the tools to identify, express, and, thus, regulate their feelings. Schools can lead the way when parents, teachers, and administrators learn about the complex roots of bullying and adopt effective strategies for addressing it.
The kids are counting on us.
Ruby Park Public School: Where Mental and Physical Health is Important
Ruby Park Public School aims at educating and nurturing students to become a strong community of future-ready citizens and leaders of tomorrow. With a holistic curriculum, the students are taught life skills via an education pattern, supported by a counselling and disciplinary system that cares for the student's mental health.
Being affiliated with the CBSE board, it visions to impart 21st-century skills to its students and maintain a delicate balance between traditional values and modern ethos. The refreshing and peaceful learning environment has stimulated the students to successfully achieve the highest standards of discipline and excellence in their educational endeavours.
For more information on this CBSE-affiliated institution and its holistic curriculum, visit www.rubypark.com.