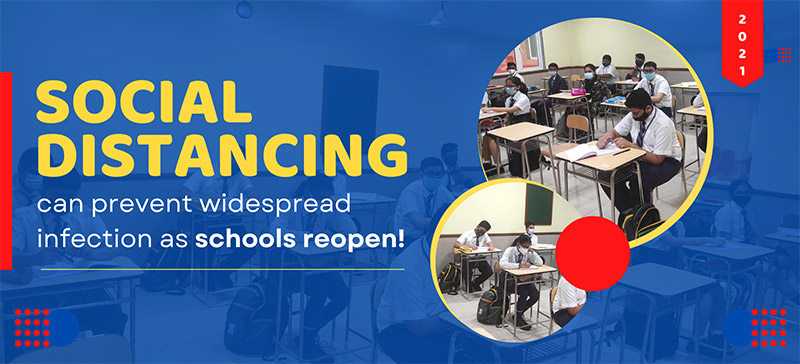 Nowadays, the oft-heard dictum 'Please maintain social distance' has become a way of life for most. It is especially relevant for children who now go back to school after almost two years of online learning at home. As the coronavirus has played a devastating effect on our health and lives, social distancing will help to keep the vast student community safe.
Adapting to the new normal, schools will have to proactively put norms in place to facilitate learning at school in a safe milieu. Some suggested measures (already in practice also) to social distance physically for students at school.
Here are some recommended measures for the students that can be followed in school during this crucial time to maintain social distance would be:
Staggered Attendance – where the students of the class are divided into two groups, so that they can attend school at different hours
Weekly Cohorting – It is a good strategy where students attend school in person on alternate weeks. It will avoid crowding and contact tracing will become easier.
Socially distanced desks – are kept at least 6 feet to prevent airborne infection through droplets from cough, sneeze, etc. (How it is helping in maintaining physical/social distance in school needs clear explanation)
Regular cleaning of all surfaces at school – it helps to prevent infection from contact from surfaces as desks, chairs, doors, bulletin boards; if contaminated.
Wearing Masks, a mandate – All people entering the school premises to wear masks. Non-scholar personnel as teaching staff, service staff, parents and others to submit the Vaccination certificates and download the Aarogya Setu app for efficiency. Monitoring the movement of non-essential visitors to the school and keeping a log of visitors are imperative.
Child Safety Guidelines
Child Safety is a priority at Ruby Park Public School. The following guidelines are encouraged to ensure safety for all students:
Avoid crowding hallways lining classes and other rooms.
Closing Communal spaces like the cafeteria and playgrounds and promoting staggered attendance in music rooms, yoga rooms, libraries, and auditorium. The larger rooms may be used as classrooms for learning with a socially distanced set-up.
Every room in the school to be equipped with hand sanitizers; especially the washrooms to be updated with hand wash stations and hand wash soap products
Queues to be made with social distancing.
Advocate for the importance of social distancing and handwashing techniques. Signboards should be posted in critical areas to reiterate the same.
School buses to be sanitized when carrying the students to school. Social distancing by occupying alternate seats to be encouraged.
Challenges and the way forward
During the pandemic, various challenges can be observed, most notably the technology divide, especially in rural areas and the lack of teachers competent in technology. The Government has proactively addressed these challenges by hosting lessons on specially curated Television channels, training the teachers to be 'Smart' for conducting online sessions and providing access to e-learning software and infrastructure. Phased out reopening schools followed it to bring back the normalcy of in-person learning. Vaccinations for children will further strengthen the efforts against the virus.
The entire endeavour was conducted to bring back students to where they rightfully belong- the school.
Ruby Park Public School: Your gateway to world-class education
Ruby Park Public School aims at educating and nurturing students to become a strong community of future-ready citizens and leaders of tomorrow. With a holistic pedagogy and delivery methods at RPPS, the students are taught life skills to live responsibly by caring for themselves, the people around them and their environment.
Being affiliated with the CBSE board, it visions to impart 21st-century skills to its students and maintain a delicate balance between traditional values and modern ethos. The school is proactive in reopening its doors post-pandemic with the assurance of safety and security for its pupils.
Disclaimer:
RPPS blog posts have been written with the information gathered from approved articles and websites online. Our research and technical team strive to provide relevant information through such articles.