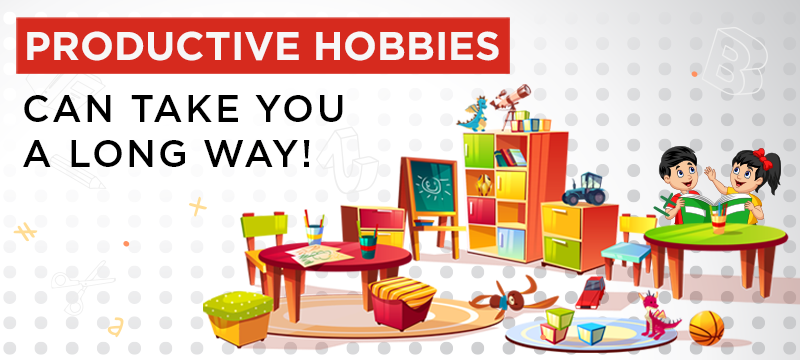 Happy is the man who can make a living by his hobby

– George Bernard Shaw
A hobby developed in the growing years facilitate students to learn about their interests, hone their talents and find opportunities to relax in their otherwise hectic academic schedules. At the same time, they often also turn into a vocation and a source of income in the later years of any child.
It is a common trend with employers to assess hobbies to determine the personality of the candidates – culturally active participants are considered as driven and passionate, making them preferable for any organization. A study conducted by Northwestern University's Kellogg School of Management Studies concluded that 51.2% of employers use hobbies and interests to select suitable candidates, implying that the purpose of hobbies extends far more than just mere recreation.
Let us enumerate some key "passion activities" that can benefit the student community in their career pursuits.
Reading: It nourishes the mind and makes one self-confident. Any student who picks up a book other than his curriculum very early in life inculcates the habit of learning about new things. His attitude to life changes; he acquires values like curiosity, perception and empathy. He develops an understanding of the world around him and his skill usually extends to another hobby – writing. An avid reader picks up new words and develops an excellent vocabulary which allows him to master the art of writing and communication in the long run.
Blogging and creative writing: While providing a creative outlet to the student who is practising this hobby, blogging and creative writing are known to instil a deep sense of discipline. The participant becomes more organized and creative when it comes to problem-solving. When a future employer discovers that the potential candidate can manage time, juggle responsibilities and is armed with good communication skills, he is naturally bound to be impressed.
Working as volunteers: In the process of volunteering their time and effort vis-a-vis activities of social relevance, the youngsters are exposed to more information about the lives of the less privileged. They become socially aware, understand team spirit, become motivated and driven to work for social causes. All in all, they prove to be excellent candidates for any organization.
Learning a new language: Linguistic skills come in handy especially when one migrates to another country. In addition to the benefits of employability, learning a new language helps to develop new areas of the mind and strengthens the brain's ability to focus, manage multiple possibilities and process information more quickly.
Playing an instrument/indulging in art and craft: Studies in Neuroscience have shown that music can enhance brain function in budding adults. Musical activities stimulate the brain that leads to improved structure and formation of neural connections. Similarly, pursuing art and craft can strengthen cognitive functions. Again, artwork can help improve the fine motor skills of the youngsters.
Cooking and baking: These life skills are a prerequisite for any adult for basic survival. These activities are often categorized as being therapeutic and cathartic. Students pursuing these hobbies develop a keen attention span, an impeccable understanding of measurements and often become extremely resourceful!
Strategic games: Sports, in general, promote the spirit of camaraderie and sportsmanship in students. However certain games like chess and Sudoku take it a notch forward and enhance brain functioning. Strategic problem-solving is a key skill that the hobbyist develops in such cases. Indulging in some other sports like cycling, running and swimming have proven to bolster the resilience of a child.
Promoting all-round growth
Rated as a premier school and boasting of highly experienced and qualified teachers, Ruby Park Public School (RPPS) in Kolkata empowers children with meaningful activities and in-depth academics. This CBSE-affiliated institution strives for excellence in education and the holistic growth of all its patrons. The students are provided with an environment that fosters their overall personality and academic brilliance through a specially curated curriculum. With a harmonious blend of various disciplines, the school ensures that children are equipped with life skills that pave their path for a fulfilling future. Students are encouraged to pursue their hobbies and cultivate these activities beyond their scholastic endeavours.
For more information, visit www.rubypark.com