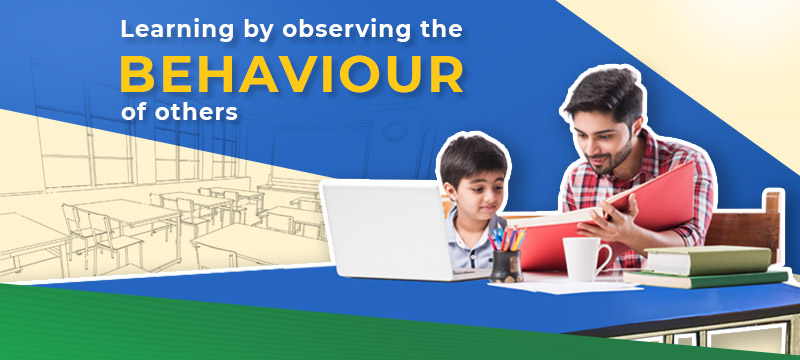 Child and human development experts have proven that children learn a lot through imitation, right from the time they are babies. In other words, they observe people doing things and then "copy" their actions. A key element of observational learning, imitation, forms the basis of learning many subjects and is the precursor of skill development at the school level. It facilitates children to pick up the nuances of the concerned subject better and makes learning interesting, quick and efficient.
Types of imitation
Imitation is either 'dramatic' or 'idealistic'. Dramatic imitation is 'based on a mental image formed by a child', for example, imitating a certain character in a story or film. This type of imitation is used in subjects like reading, language and drawing in school. On the other hand, idealistic imitation is based 'on a concept or some standards that need to be accomplished'. It finds usage while learning subjects like speech or phonics, writing and music.
How is imitation used in the classroom?
Experts in the realm of early education have recognized imitation to be an 'important moral, social and intellectual agent in formal education'. Good teachers have always used this practice (of imitation) for imparting lessons successfully in the classroom. Let us take a look at how it has always led to effective learning in the classroom.
Pronunciation and intonation, the important aspects of oral language, are best learnt through imitating the teachers and subsequent practice.
Imitation of "sounds" has been proven to be effective for picking up the nuances of any language.
The correction of speech defects, enunciations and accurate language forms are best achieved through imitation.
Imitation leads to the development of motor skills in children.
It is also an important mechanism for cognitive development.
Modelling through imitation is a preferred way of teaching social skills and proper etiquette to school-goers.
Advantages of using this technique while teaching
Researchers have also proven that students learn much better when it is linked to the concept where they model their behaviour on the basis of "imitating" the instructor. Teachers also gain a lot of advantages while incorporating this practice of imitation in their lesson modules. Some of the prominent advantages include:
Foundation of new skills: Imitation is employed by teachers as a 'building blocks' model. They teach the imitation of simple things first which are then combined to impart more sophisticated and advanced skill-sets.
Learning becomes fun and efficient: This mode of teaching that relies on mostly repeating after the teacher till the skill-sets are refined work out to be far more interesting for the youngsters when compared to lengthy explanations or written assignments. It efficiently addresses skills deficit because it focuses on them specifically and rewarding the learner once they are perfected.
Benefits learning throughout life: Imitation as a learning technique can help individual reap benefits throughout his life. While it helps students grasp lessons better in the classroom, it is equally beneficial for adults when it comes to picking up the work culture of an organization in a new job.
Enlightening young minds
The faculty at Ruby Park Public School (RPPS), Kolkata are qualified and experienced enough to be aware of the important role imitation plays in the process of development of the students as well as manifest their talents. It is an inherent part of the holistic education that the institution provides to ensure high standards of educational excellence complemented by a host of extra-curricular activities. Employing optimum utilization of state-of-the-art technology and modern pedagogical tools, the teachers make every effort towards the development of every student from strength to strength.
For more information, visit www.rubypark.com
You may also read