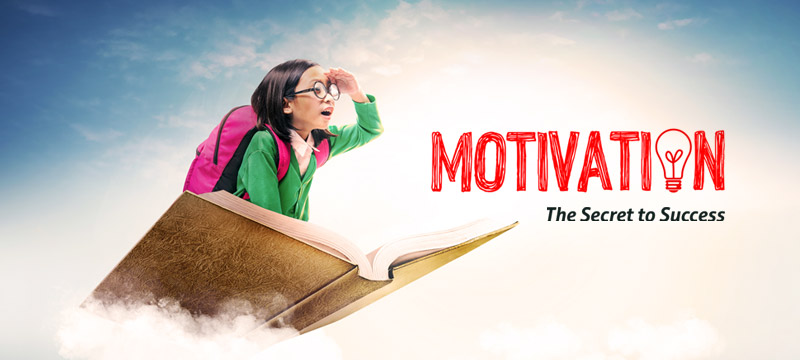 Motivation refers to the desire, need or drive in students towards learning as well as all aspects of their life. Motivating children in the early stages of their childhood, help young minds learn to take on more responsibility and indulge in more creative and varied learning throughout their life. On the other hand, without motivation, they tend to become more reclusive and often fall prey to behavioural and psychological issues.
Motivation is thus a key component in a child's development both at home and in school since it is the driving force which helps them to act and successfully complete any given task. It is important for a child's parents, his teachers and other caregivers to understand the level of motivation of the youngster and accordingly guide them in their areas of interest.
What are the types of motivation?
Motivation is described as 'a state that energizes, directs and sustains behaviour'. It directs behaviour towards specific goals and the effort and interest to sustain the activity till completion. Motivation can manifest itself aseither being intrinsic or extrinsic.
Intrinsic motivation is inherent in nature leading to the development of interest in a learner from within, because the action by itself is enjoyable. This type, representing engagement in any activity for its own sake, usually leads to a sense of personal satisfaction for the doer. For example, if a child shows a lot of interest in school in learning new things and expanding his knowledge, he is intrinsically motivated to do so.
Extrinsically motivated behaviour, on the other hand, is dependent on 'external factors' like incentives, that involves carrying out any activity to earn a reward, or avoid punishment.Rewards – such as a candy, toy or sticker – are good examples of extrinsic motivators at home or in school. Social and emotional incentives like praise and attention are also prime examples of how a child can be extrinsically motivated.
How does motivation affect learning & behaviour?
Together, these two types of motivation contribute to the underlying reasons, attitudes and goals that constitute human behaviour. However, in most cases, experts reckon intrinsic motivation to be ahead of the extrinsic variant since individuals who are internally motivated have proven to be more successful, committed, persistent and creative. In fact, research has demonstrated that offering excessive external rewards for an already internally rewarding behaviour can actually hamper that motivation – a phenomenon that has been termed as the 'over justification effect'.
At the same time, when used appropriately, extrinsic motivators can prove to be a useful tool too. For example, it can get students to complete a task or school assignment that does not interest them. When administered correctly, it can even enhance the level of intrinsic motivation. A case-in-point being praising a student – in this case, it can enhance the confidence level of the youngster and can actually boost his intrinsic motivation. Rewards, rightly administered, can lead to better performance and creativity. So it can be concluded that understanding what type of motivation works best in a given situation is the key to effective learning and performance.
We care for your child
Whether it is online teaching or in the classroom, the teachers at Ruby Park Public School (RPPS), Kolkata are qualified and experienced enough to gauge the motivational levels of every student. While intrinsic motivation is appreciated, the faculty leaves no stone unturned to offer extrinsic motivation, in case the need arises, to enhance the learning abilities of the child. The overall idea is to establish close relationships with all the students and build on their strengths. The students trust the teachers and share what is important to them, thereby inculcating the value of learning to move ahead in life.
For more information, visit www.rubypark.com