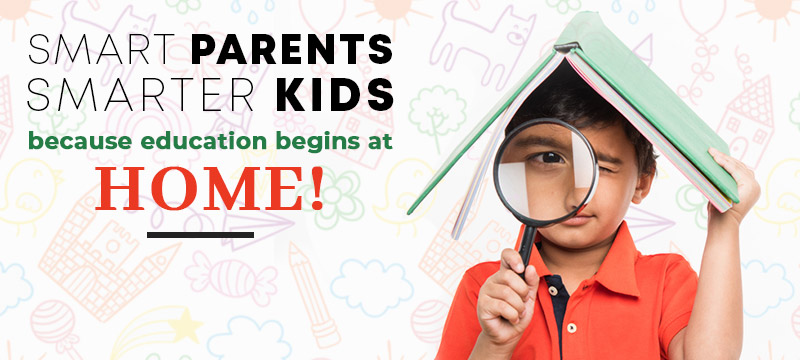 The parents are a child's first teachers. The process of learning and basic education for any child begins at home. Intelligent and responsible parenting results in holistic learning which is beneficial not only in the school life but throughout the journey of life. So, what exactly do we mean when we refer to this critical aspect of "positive parenting"?
Definition and benefits
Positive parenting has been best described as 'continual relationship of a parent(s) and a child or children that includes caring, teaching, leading, communicating and providing for the needs of the child consistently and unconditionally'. It has assumed even more importance in today's dynamic and stress-ridden times. It has the best effect on a child when it is initiated early: in fact, according to research, the best age to start this practice is when the child is below the age of one.
The benefits of smart parenting are multifarious. Some of them, as encapsulated below, include:
Facilitates a stronger bond between the parents and the child
Improved mental, emotional and physical development of the young children
Better communication, including better social and problem-solving skills
Inculcates a sense of happiness and high self-esteem
Provides the right sense of "direction" to the children, aimed at personal development and self-growth
Reduces negative behaviour as well as depressive symptoms
Enhances the concepts of respect, compassion and gratitude
It improves adjustment in school and has been proven to be directly related to achieving success in academics as well as extra-curricular activities
Positive parenting techniques
Although there is no real formula for "good" parenting, a warm yet firm style has proved to be the most effective in securing strong parent-child relationships. Below are some other guidelines which parents can follow to ensure successful upbringing of their little ones.
Being attentive and responsive to a child's needs so that the little one never feels left out.
Communicating clearly and effectively is always crucial for the development and overall positivity of any child.
Watchful supervision and monitoring is very important to rear happy and healthy children.
A fair yet positive approach to discipline at home is a very successful technique since we know that young children initially learn by mimicking their parents and caregivers.
A non-punitive, patient and creative attitude when a child is misbehaving or throwing a tantrum aids in handling the situation effectively.
There is a huge difference between parenting a toddler and an adolescent. It is vital for parents to understand, appreciate and respond appropriately to these age-specific behavioural patterns of their children.
Rewarding and encouraging positive behaviour, including academic and non-academic achievements, help to generate positive self-identity and a sense of fulfilment in youngsters.
Avoid taunting and shaming children since it affects their self-esteem and level of confidence. Discussing the matter or talking it out with them is the perfect solution.
Parents should strive to be positive role models by promoting a healthy lifestyle, proper guidance at all times and providing the child with a sense of responsibility by involving them in family discussions.
Last but not the least, make positive, happy family experiences and occasions a priority.
We work closely with parents to secure the best future for children
Rated among one of the top schools in the city, Ruby Park Public School (RPPS) always encourages parents to be supportive enough to curate resilient and self-aware children. We always inspire caregivers to adopt the best tried-and-tested methods of parenting to give their children the wings to fly in life, with the big picture in mind. Good parenting goes hand-in-hand with our curriculum that stands for all-round development of these beautiful minds in all aspects of their lives.
For more information, visit www.rubypark.com