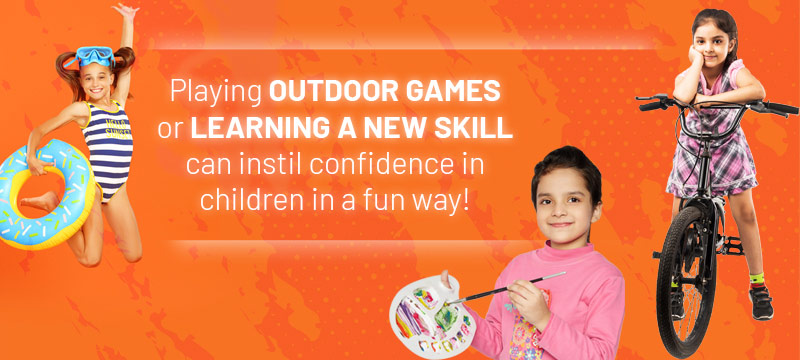 The summer holidays are the perfect time to keep the children happy and amused. It is a time to devise activities and let the imagination run wild. A cardboard box can become a computer, or a bean seed from Mommy's kitchen can grow into a plant! It is when physical manipulation of objects, role plays, and indulging in nature and the outdoors; will make the child see, feel, and think to develop his problem-solving skills and become more resilient and flexible in thinking.
Exciting ways to keep your child busy this summer
Some favourite ways to have summer fun to keep the creative juices flowing are:
Enjoy Mother Nature – Activities such as planting your little herb garden, plant picking, sky gazing, counting the stars, recognising cloud shapes, making a bird house, and making your own houses with twigs and leaves or even sand – could be fun ways to interface with nature! Understanding that we need to indulge in sustainable activities to save our planet is the best learning a child can gain at this time!
Explore the Local Platter – Summer time is for exploring places, activities, and events. The children should be encouraged to enjoy local events, learn a new activity such as pottery or music, explore their neighbourhood or even enrol in new classes.
Time for Brainy Indulgence – Summer time, away from school, should keep the brain busy by learning and thinking. To develop a child's abilities, what better ways than solving riddles and brain teasers, completing the summer home assignment, joining a book club, or learning a new skill such as playing the piano or guitar.
Get Artsy – The summer holidays are the time to paddle in artsy fun and get creative with those chalks and paints. Create an activity mural, have a photoshoot session, do wall art, have some graffiti fun, be creative with the play dough, make some jewellery, go wild with the best out of waste, write and stage a drama- oh and so much more!
Summer Fun on Rainy Days – There is plenty to do indoors when pouring outside. Put up the room tent for camping, create fun animals and shapes with origami, learn to polish your shoes or iron your clothes, remember to make breakfast, play a card game, and paint some greeting cards are excellent ways for children to stay busy at home.
Outdoors is Cool – A little space and sunshine keep the children happy. Slides and swings, obstacle races, gardening, flying kites, having a bubble gum blowing contest, football fun, cycling, visiting an amusement park, jumping rope, holding a hula hoop contest, and having an inhouse summer Olympics – will keep those muscles rippling and healthy.
Some Fun at Night – As there is no hurry to get up early and run to school, summer nights can be made fun. Setting up a bonfire, catching lightning bugs, star gazing, camping, and going to a drive-in can be novel experiences for the children.
Making the most of the summer vacation
People expect children to be constantly active and busy. Kids are encouraged to be physically, emotionally, mentally and creatively engaged to keep them fulfilled. Parents respond to the kids' holiday boredom by providing games, entertainment or other 'structured' activities, which the children need to be engaged in the 'unstructured' time of the summer holidays.
Ruby Park Public School: Providing world-class education
Ruby Park Public School aims to educate and nurture students to become a strong community of future-ready citizens and leaders of tomorrow. With a holistic pedagogy and delivery methods at RPPS, the students are taught life skills to live responsibly by caring for themselves, the people around them and their environment. Being a sister concern of DPS Ruby Park, the school ensures quality education in the academic and co-curricular spheres.
Being affiliated with the CBSE board, it visions to impart 21st-century skills to its students and maintain a delicate balance between traditional values and modern ethos. The refreshing and peaceful learning environment has stimulated the students to successfully achieve the highest standards of discipline and excellence in their educational endeavours.
References: