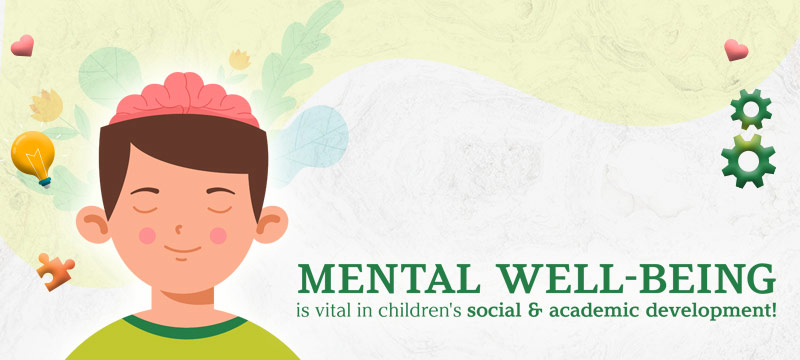 Mental health in children involves aspects of attaining developmental and emotional milestones, learning healthy social skills and how to cope with problems. Mentally healthy children are more likely to have a positive quality of life and function well in different settings, such as home, school, peer groups and communities. However, children often fail to cope with the various demands placed on them by the society. As a result, they develop mental health problems or disorders.
Common Mental Health Disorders and their Symptoms in children
The most commonly observed mental health disorders are depression, attention deficit hyperactive disorder, anxiety, autism, obsessive-compulsive disorder, post-traumatic stress disorder, conduct disorder, substance abuse, and eating disorders.
Several factors may influence mental health. These factors include family disruptions like divorce or living separately from the parents, single parenthood, adverse childhood experiences, and violence in the family. Furthermore, these may contribute to poor general health and cause mental, emotional or developmental disability.
Parents, teachers and caregivers must recognise the signs of such disorders. Sleeping in class, a tendency to break down and cry, skipping school, craving too much attention and withdrawal or loving isolation are symptoms of declining mental health.
How Can Parents Help
A child's healthy development depends on the parents and people around them. Parents who suffer from anxiety or depression translate their mental health status to their children in various ways. Together, they may face challenges in the environment as vulnerable attitudes, living in unsafe environments, facing discrimination or deprivation, all of which may lead to mental health deviations.
As a parent, being mindful of triggers is important. Keep the lines of communication open with the child's teacher and caregiver to support the child collectively. Focus on finding a solution to the problem together. Do not defend the child if he has done something wrong. Working with your child's teacher and school will make the learning environment optimal for everyone in the classroom.
What Can Teachers Do
Teachers act as parents, counsellors, disciplinarians and tutors. During the six to seven hours of school, they interact with the child daily. They perform the tasks of creating lesson plans, grading papers, coaching duties, mentoring clubs, attending meetings, communicating with parents, and teaching.
Teachers can make a difference by recognizing the symptoms of poor mental health. Being culturally sensitive, creating awareness, and having a flexible classroom culture can help students and parents cope. Strategies such as teaching the students problem-solving skills, allowing them to set goals and readily supporting them with interventions and directions go a long way. Teachers can also work on their behaviour through self-regulation. Furthermore, school systems can also help parents with counsellors, school psychologists, social workers, student aids, and many alternative teaching abilities.
There is a clear connection between mental health and academic performance. Teachers can support mental health by giving students special seating, assigning volunteer classmates, providing private feedback on academic performance, relaxing exams, substituting assignments, writing or oral projects and sending healthy and motivating messages to students. These will help to subdue the mental health problems in the classroom arena and encourage the students to learn in a healthy and favourable climate.
Mental Health Support Post Covid-19 School Returns
Children are endowed with coping mechanisms to stress situations. Restrictions, school closure, and transitioning back and forth between online and offline learning can take a toll on the mental health of the children. School teachers and personnel have a critical role in ensuring the learning and emotional well-being of their students.
Additionally, teachers should know the warning signs of mental health disorders and educate themselves on the growing need of mental health. They must be supportive and avoid using dismissal or judgemental language to help the children understand their state of mental illness and cope effectively with it.
There are several ways to help children understand and cope with mental health disorders. By engaging in open communication on the child's concerns and empathetically discussing the loss of a parent or loved one due to COVID 19, we can ensure the well-being of the students. Furthermore, we must seek suggestions from children on how to create a welcoming, safe and comfortable classroom, promote interaction between students and model good coping behaviours for students by being calm, honest, and caring so that the students are able to emulate their teachers.
Just like teaching other skills, children can be encouraged to learn about mental health and how to address mental health concerns.
Ruby Park Public School: Your gateway to world-class education
Ruby Park Public School (RPPS) aims at educating and nurturing students to become a strong community of future-ready citizens and leaders of tomorrow. With a holistic pedagogy and delivery methods at RPPS, the students learn life skills to live responsibly by caring for themselves, the people around them and their environment.
Being affiliated with the CBSE board, it visions to impart 21st-century skills to its students and maintain a delicate balance between traditional values and modern ethos. The refreshing and peaceful learning environment has stimulated the students to successfully achieve the highest standards of discipline and excellence in their educational endeavours.
References: