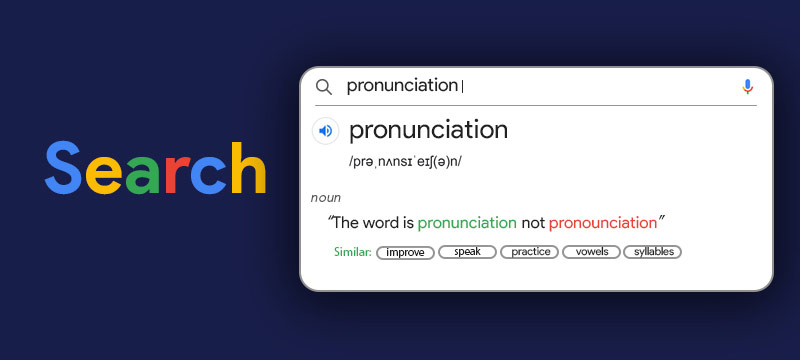 Pronunciation is an essential skill for communication between people from a diverse social and cultural milieu, especially so in the case of the English language. It remains one of the significant challenges to students for whom English is not a mother tongue or a second language.
English is also the official language in 67 countries. With many countries, cultures, and ethnicities with unique languages, English pronunciation is challenging for non-native English speakers worldwide. English, being the most spoken language globally with 1.135billion total speakers, the challenges of correct English pronunciation for non-native English speakers become many.
The challenges of correct pronunciation could be diverse as the English spelling is mystic. Many words are not pronounced how they look. Words as by, bye, buy all have the same pronunciation, yet widely different meanings. The letters 'ea' in 'eat', great, 'idea', 'learn', 'heart' all have different pronunciations! Another challenge to non-native English speakers is that some English sounds are entirely new while learning the language, as some vowel and consonant sounds do not exist in their first language.
Improving Pronunciation
To improve pronunciation in English one has to follow some steps to it, which promise an improvement quotient and avoid common traps. These steps are:
Prioritise It – By spending dedicated time to learning English pronunciation every day. The effort is required to learn the skill of speaking English correctly. Choose to practice new words in the chore of daily activities. Listen, imitate, and communicate with them till you get the proper pronunciation.
Decide what kind of English is correct for you – When listening to English speakers, listen to accents. English speaking nations pronounce the same word differently. Different types of inflexions are used, lax in vowels differ and framing of questions may also vary. Choose before practising.
Write down things – This can be used as a good practice guide. Keeping notes is an excellent way to observe patterns, such as in the o, oo, ou words. The progress will soon be in front of you.
Speak More – Speaking English is more effective than listening to English on the radio or watching an English movie. The only way to improve your English-speaking skills is to speak, and the most proven method is to talk out loud to yourself and as often as possible.
Focus on your mouth – Shifting the focus to the mouth is essential, as pronunciation is a physical skill. Controlling the movements of the mouth will determine how good you can make English sounds. Practising the brain- mouth coordination is essential too.
Check on your rate or speed of speaking – Pronunciation in English is at times too fast and often tend to become worse. The vowels become shorter, the stress and emphasis become flattered, and there is a tendency to drop sounds from the end of words.
Learn to pronounce vowels correctly – Vowel sounds can be tricky in English. The same vowel can sound differently in different words. English has lax and tense vowels, also called long and short vowels. Lax vowels are long, and the jaw moves while making a lax vowel sound. Tense vowels are shorter, and the jaw stays still when making a tense vowel sound. We observe a lax vowel in 'bang 'and a tense vowel 'spur'.
Learn how to find and use stressed syllables in English words – Each English word has a stressed syllable, and the other syllables get reduced or are less pronounced. For instance, the word Canary is pronounced as ca-NA-ry. Unstressed syllables are also present, as Banana has buh-NA-nuh or Potato has puh-TAY-tow.
Use Inflection like a native speaker – Inflection is the control of the voice while speaking. Listening to English TV shows, podcasts, movies – to understand how the speakers use their voices in asking questions and making a statement comes with a lot of observation and practice.
Beware of Spelling Traps – Many words can get mispronounced in English as the term is not spelt or written the way it is pronounced. For instance, Soot and Suit both have the same pronunciation!
Developing your brain's ability to access various words and their use in English sentences with correct pronunciation; requires a lot of practice. The most powerful and proven method to get those words right while speaking is to speak out loud to yourself! Practice by conversing with others may be the long road to success.
Ruby Park Public School: Your gateway to world-class education
Ruby Park Public School aims at educating and nurturing students to become a strong community of future-ready citizens and leaders of tomorrow. With a holistic pedagogy and delivery methods at RPPS, the students are taught life skills to live responsibly by caring for themselves, the people around them and their environment. Being a sister concern of DPS Ruby Park, the school ensures quality education in the academic ad co-curricular spheres.
Being affiliated with the CBSE board, it visions to impart 21st-century skills to its students and maintain a delicate balance between traditional values and modern ethos. The refreshing and peaceful learning environment has stimulated the students to successfully achieve the highest standards of discipline and excellence in their educational endeavours.
References: