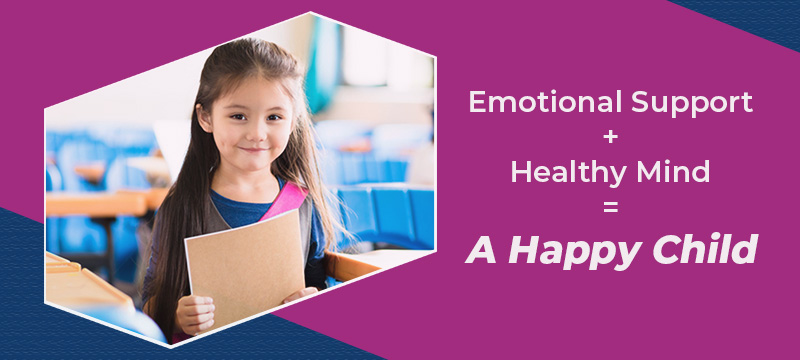 The Covid-19 pandemic has had a substantial negative impact on children all over the world. With the day-to-day routines having taken a beating, many youngsters, particularly adolescents, are facing a host of social, emotional and mental issues. These manifest itself through harmful emotions like immense frustration, irritability, bad mood and anger outbursts, to name a few only.
It thus becomes imperative for the parents, caregivers and teachers to tread this issue cautiously and diligently to help the children overcome their problems. If ignored, the trauma at this developmental stage of their lives can continue to affect them throughout their lives.
What is the cause for children suddenly facing these issues in their life?
Change in routine: Although effective, the online form of education is way different from physically attending school. Besides, children have also had to adapt to newer patterns such as physically distancing themselves from their friends and family, different play schedules and the overall agendas of their daily lives.
Break-in continuity of learning: The children were accustomed to attending school regularly for gaining knowledge. Thanks to the pandemic, the "new" virtual learning environment, access to technology and "study from home" has hampered the continuity of their learning and adversely affected their well-being.
Significant life events: The disappointment of missing out on important life events like celebrating their birthdays or going on the annual vacation has played a major role in upsetting the mind-frame of the young learners.
Reduced focus on healthcare: Missing out on wellness sessions, immunization visits and other healthcare-related occasions are also to be blamed for this depressive phase in children.
Stress for the future: The constant threat of illness, morbid news and uncertainty for the future has resulted in generating a lot of stress in young people.
Lend a helping hand
There are various ways by which parents, as well as teachers, can tackle these negative emotions and motivate children to do better. Some of the pertinent ways include:
Being calming and explanatory: In these difficult times, children need a lot of hand-holding from their parents and teachers. The seniors must engage them in meaningful conversations to bring about awareness about the Covid-19 disease and the key ways in which the children can keep themselves healthy. The moot point is to provide them with the required support and always let them feel comforted, cared for, and happy.
Involving them into the daily routine: Children need structure. It is thus important for parents to ensure there is a structure for the day around the house. It is also helpful for children, especially the younger ones, to have a direction of when they need to study and when to play. A dedicated technology-free time, when the entire family can get together to interact and bond together, is also vital.
Letting them feel their emotions: Psychologists researching on this recent phenomenon are of the opinion that it is critical to "support, expect and normalize that they are sad and very frustrated about the losses they are mourning." Empathy and unconditional support are what children need to cope with these difficult times.
Keeping them informed: It is vital to insulate children from all the misinformation related to the pandemic that is circulating in the world. It is important to be their friend and to guide them with the correct information and knowledge that will keep them away from negative notions.
Creating welcome distractions: Psychologists recommend connecting with the youngsters and creating welcome distractions for them. For example, cooking meals together, bonding over dinner or even playing family games together. This keeps their mind away from stressful situations. They are also encouraged to approach and interact with the parents or the teachers to clear the negative confusion in their heads.
RPPS: Empowering children
Rated among one of the top schools in the city, Ruby Park Public School (RPPS) has successfully adapted to the online medium for imparting education in recent times. Even in this trying phase, the well-trained teachers of this CBSE-affiliated institution are striving for excellence in education and the holistic growth of all the children. This reputed institution continues to provide the best peaceful, invigorating and intellectually stirring environment and ensure personalized care for all its students.
For more information, visit www.rubypark.com