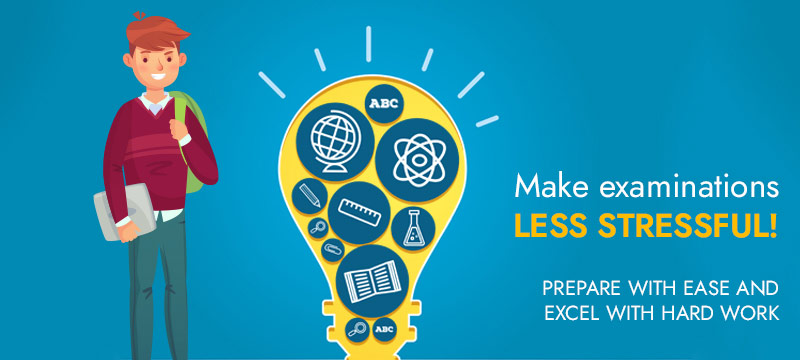 Trust yourself. You know more than you think you do

– Benjamin Spock
Being organized is a prerequisite to getting the job done successfully. Preparing for an examination is no different. Learning how to study smarter, not harder, may provide you with the advantage of scoring better. As we progress to the higher classes, the content becomes vast and complex. It is imperative to incorporate study techniques and habits to ensure thorough preparation.
Here are a few tips for scoring better in your examinations:
Organize the Study Space – It is good to ensure enough study space on your study desk. Attention to detail will make the study place feel comfortable and remove any distractions to focus while learning. Removing clutter and adding music in the study place can make a friendly and pleasant environment which fosters higher concentration.
Keep Distractions Away – Stay away from all distractions such Mobile Apps, Social Network and Computer games during study sessions. There are apps to block notifications to overcome checking messages or warnings if the urge arises. All attention should be focused on the examination.
Organize Study Habits – Organizing study habits, preparing a study schedule, and not leaving anything for the last minute are good practices. Contrary to common belief, mugging or learning by heart does not ensure excellent performances. It is best to understand concepts by allocating enough time and spreading the study preparation period well before the exams. A well-organized study timetable will support better learning and retention.
Take Regular Breaks – Divide the study time into sessions of 20 to 30 minutes and focus on a single topic at a time. Taking regular breaks during the study period will help understand the subject deeply and promote long term retention. It also offers your mind to relax and assimilate the material better.
Use flow Charts and Diagrams – Visual Aids can be helpful while revising a study material. Write down what you know about the subject at the start of a topic. Highlight to remember the gaps. Before the exams, condense revision notes into one pager flow chart and diagrams for better retention and recall during the exam.
Set a Goal – Set a realistic goal and determine the amount of time for studying. Note down the study planner to have time for a detailed study. A plan is essential to pass the exam.
Group Study Sessions – Group study sessions are an effective study method. Comparing notes with class friends and discussing complicated concepts constitute an effective retention technique. Group study becomes more effective when all group members are disciplined and result-oriented, share tips to pass exams and pose questions. Staying focused and taking mock quizzes to each other to practice timelines and working under pressure is also a good idea. Having a team of learners will help you focus and complete the syllabus.
Snacking on Brain Food in the Preparation Period – Consuming natural, fresh and vitamin-rich food is good as it helps to improve concentration and memory. What you eat can impact your energy level and focus, so it is best to stay away from junk foods. Fish, nuts, seeds, yoghurt and blueberries are considered helpful. Sugar or pre-cooked food containing added sugar seem appealing, but the energy levels crash quickly after consumption. Eating light and healthy meals before the exams is a good idea.
Drink Plenty of Water – Being hydrated is essential for the brain to work well. It is advisable to drink plenty of water throughout the revision period and on exam day.
Plan the Exam Day Well – The day of the examination should be planned well in advance. The logistics should be proactively managed, including location and route to the exam centre, the rules and requirements, time management, stationery, and other exam tools.
Keep Stress at Bay – Be confident while taking the exam. Abort nervousness by reassuring yourself that you are well prepared. Relax by closing your eyes taking some breathing exercises.
Develop the Exam Strategy – On getting the exam paper, scan it thoroughly to understand the time management required for the answers. Try to ascertain which parts will take the most or the least time, and organize your time accordingly. Read the instructions well. The strategy may be divided – answering long answers first, known answers first or responding in the given sequence as in the paper.
Relax and Stop Worrying After the Test – After the exam, there is no point worrying about your performance. Relaxing is a healthy habit that will impact the performance in the subsequent exams.
Adopting the tips mentioned above will be beneficial and go a long way in preparing and taking examinations effectively.
Ruby Park Public School: Your Gateway to World-Class Education
Ruby Park Public School aims at educating and nurturing students to become a strong community of future-ready citizens and leaders of tomorrow. With a holistic pedagogy and delivery methods at RPPS, the students are taught life skills to live responsibly by caring for themselves, the people around them and their environment. Being a sister concern of DPS Ruby Park, the school ensures quality education in the academic ad co-curricular spheres.
Being affiliated with the CBSE board, it visions to impart 21st-century skills to its students and maintain a delicate balance between traditional values and modern ethos. The refreshing and peaceful learning environment has stimulated the students to successfully achieve the highest standards of discipline and excellence in their educational endeavours.
References: