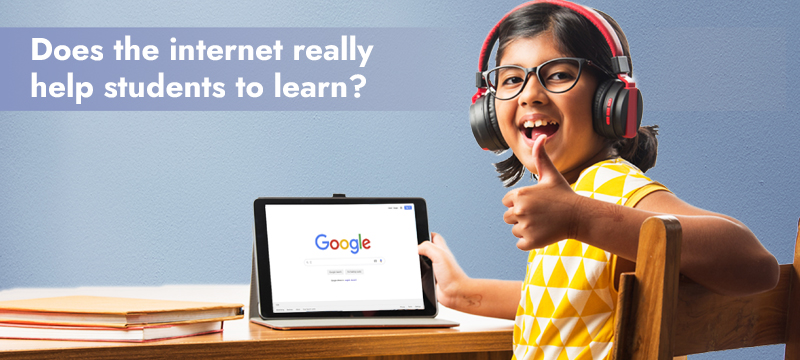 A master trend observed has been the use and overuse of search engines like Google in our daily lives, which gives us instant and plenitude of solutions at the click of a mouse. It is worth mentioning that the average number of Google searches per day has jumped from a figure of 9,800 in 1998 to over 4.7 trillion today.
The thrill of instant information and the convenience of knowledge at our fingertips gives a high. Yet, research shows that the 'Google Effect' changes how people, especially students, think and learn. Smartphones have made access to knowledge easier and quicker than ever before. (1) (2)
Impacts on Students' Learning
Some of the obvious, and at times oblivious impacts on Students' Memory seen are:
Transactive Memory – Internet access, it is researched, directly impacts students' memory. Search engines have changed the way of memorizing and remembering data. We are more confident that the necessary information will be available online. We have changed how our brain saves data. With the vast data of information available readily anywhere and anytime, the Internet has become a dominant form of 'Transactive Memory' or storage house outside our minds. The transactive memory onus has shifted now from the books to the search engines.
Use of Short-Term Memory – Students are seen to be indulging more in Short Term memory tasks as sporadic users. The more confident they become about Google, the more they learn to disregard this online information and hence less likely to retain what they see. The tendency to forget the things we can find on the Internet is high.
Redundancy of Long-Term Memory – As a result of the Google effect, the Long-Term memory may become redundant. This memory facilitates critical thinking, a much sought after 21st-century skill! Critical thinking helps us to understand and interact with the world. It promotes interpersonal relations and our social skills. Our human skills identity may gradually get diluted upon redundancy of the long-term memory. It can be a significant threat. (3)
Confidence Boosters or Distractors – Students who have access to search engines exhibit more confidence in the topic than students who have to answer directly from memory or textbook references. Students have become adept at searching on Google, which can be a time waster and distractor.
Information Overload – On searching answers online, the students have to experience an information overload. The combination of Long-Term Memory loss and Information Overload may harm the brain. They gradually lose the skill to evaluate the content for accuracy; and eventually their creative thinking ability. (3)
The Aftermath – The Need for 21st Century Skills
The Aftermath of the Google effect is emerging now. Searching on the Internet and its impact on students' learning may be a positive one for that moment, but the long-term effects are detrimental. Once again, the 'Google Generation' needs to hone their inherent human skills of Creativity, Critical Thinking, Collaboration and Communication.
The 21st Century skills are needed for the students to succeed in the future. They are:
Learning skills – are critical thinking (finding solutions), creativity (thinking outside the box), collaboration (teamwork), and communication.
Literacy skills – essentially mean the understanding in multiple disciplines, including information literacy, media literacy and technology literacy.
Life skills – are primarily flexibility, leadership, initiative, productivity, and social skills – all of the skills needed in personal and professional life for self-development and good interpersonal skills. (4)
The Internet is the most prevalent and rapidly adopted technology in the history of humanity. Its technology up-gradation is on. With the advent of Siri and Google Now, online search has become more accessible. Is it leading to becoming more intelligent or stupid? The trajectory to this non-human interfaced based learning of the students' needs critical attention now.
Ruby Park Public School: Where Careers are Defined
Ruby Park Public School aims at educating and nurturing students to become a strong community of future-ready citizens and leaders of tomorrow. With a holistic curriculum, the students are taught life skills via an education pattern, supported by a counselling and disciplinary system that cares for the student's mental health.
Being affiliated with the CBSE board, it visions to impart 21st-century skills to its students and maintain a delicate balance between traditional values and modern ethos. The refreshing and peaceful learning environment has stimulated the students to successfully achieve the highest standards of discipline and excellence in their educational endeavours.
Disclaimer:
RPPS blog posts have been written with the information gathered from approved articles and websites online. Our research and the technical team strives to provide relevant information through such articles.
References: