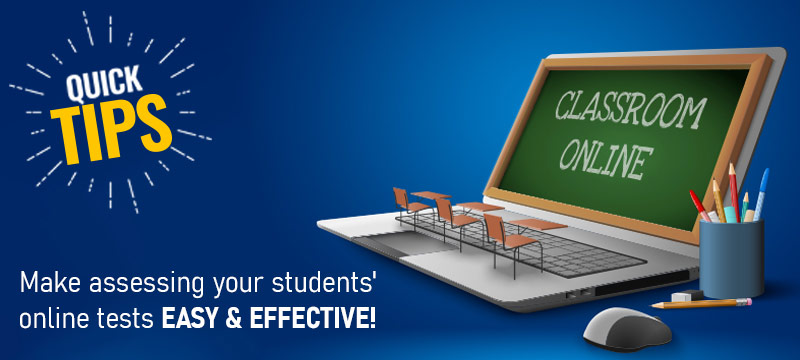 Assessment is the systematic examination and evaluation of a student's learning. It involves testing the knowledge or skills that a student has attained. The objective of the assessment is to identify areas where students need improvement. Assessments assist in gathering valuable data about the learner and can be conducted by an assessor or the learner himself.
Types of Assessments
Assessment is a beneficial tool at all knowledge levels and can be of several types. They are:
Diagnostic Assessment – is a type of pre-assessment usually assigned to test a learner's skills, knowledge, strengths and weaknesses before the instructions or lessons are given. The same assessment is repeated post learning to objectively assess the learning up-gradation and to assess if the learning goals are met.
Formative Assessments – give the assessment score at only a certain point in the learning process. Classroom polls, charts, weekly report cards; provide the feedback as a part of the whole process.
Summative Assessments – are usually accorded at the end of a learning period. Some of them may be annual reports, student learning level and content cognition at the end of a term or year. (1) (2)
Online Assessments
Online Assessments are the new normal, as learning has transcended to be disseminated using technology. E-learning is the current mantra, beyond pen and paper. Online Assessments are challenging because they are difficult to construct using the tools available. Nevertheless, their benefits are farfetched. Online Assessments are easier to explore and data collection on the performance of the learner becomes easily accessible, easily adaptable, less time-consuming, and leverage new data collection. The ongoing pandemic has accelerated the need for Online Assessments as a priority in the Learning domain. (1)
The Online Assessment should be achievable by the learner, unambiguous in approach, should include a baseline criterion for the learner, easily understood by all learners; and feedback must be provided preferably in a written format which is accessible to all learners. The quality of the online assessment determines its efficacy, universal approach, genuine scores and real-time calibre of the learners.
Online Assessment Tools
Google Forms is a popular Online Assessment Tool used by teachers. It is easy to create small quizzes or multiple-choice questions. Other tools which have gained usage in current times are Skoolbeep, The Answer Pad, Edulastic, EasyLMS, Examsoft, CodeSignal and others.
Online Assessment tools can facilitate real-time grading, help take online examinations using assessment software, and help the teachers who logged in to keep pace with the learning.
The software chosen should have inherent features such as timely updating from time to time for a smooth LMS, 24/7 chat support, an auto-save option in case of internet or electricity disruption, and be highly user-friendly. (3)
Designing an Effective Online Assessment
The internet is an ocean of opportunities. Assessments may be conducted as holding polls, conducting webinars, educative videos, Learning Management portals and others.
Create Clear Rubrics – which should be conveyed transparently to the learners before the assignment. The Assessment format, grading system and roadmap to take the assignment should be crystal clear to make a fair judgement of scores.
Purpose of the Assessment – should be established before the design of the Assessment. The objective, assessment length, test conditions will make the purpose clear and assessment goals effective in output.
All-Inclusive Approach – The assessment design should be all-inclusive with Multiple Assessments to effectively test all types and levels of learners. Accessibility, clarity, technology facilitation, and a step-by-step approach will enable holistic learner data.
Advantages of Online Assessments
Since 2020, the online mode of assessments has accelerated to keep pace with the students' learning all across the globe. Certain advantages which come through are:
Online Assessments lessen the administrative burden of the teacher and learning institutions. Learners can perform in the comfort of their homes.
With advanced software available, the results can be given quickly. Feedback thus provided paves the way for understanding learning gaps and improvement methods to be deployed.
Online Assessments have proved to be a boon to the Environment, saving paper and transportation costs, fuel, and pollution.
Incredibly Inclusive, online assessments can be made available as a standardised format to learners in urban and rural areas. Students with disability are at an advantage.
Flexibility is a big plus when learners can take online assessments at certain times of the day comfortable to them. Teachers can assess without any time restriction.
Online Assessment ensures greater transparency and security, without any invigilator or assessor bias.
Boasting of such huge positives, Online Assessments have shaped a new era in education; where Learning Management Systems and platforms have boomed in the past two years and are continuously evolving to make learning a smooth process.
Ruby Park Public School: Facilitating World Class Learning
Ruby Park Public School aims at educating and nurturing students to become a strong community of future-ready citizens and leaders of tomorrow. With a holistic curriculum, the students are taught life skills via an education pattern, supported by a counselling and disciplinary system that cares for the student's mental health.
Being affiliated with the CBSE board, it visions to impart 21st-century skills to its students and maintain a delicate balance between traditional values and modern ethos. The stimulating and peaceful learning environment has motivated the students to successfully achieve the highest standards of discipline and excellence in their educational endeavours.
References: